Edgar Ministers in the Presbyterian Church in Ireland
The Rev James Edgar (1868-1957)
The Rev James Edgar, BA, senior Minster of Fanad and Rathmullan, died on the 7th January 1957, in the 89th year of his age, and the 50th of his ministry.
Born at Carnmoney, on the 21st September 1868, Mr Edgar was educated at Queens College, Belfast, and at the Reformed Presbyterian Theological Hall. He graduated in Arts in the Royal University of Ireland in 1904, and was licensed by the Eastern Presbytery of the Reformed Presbyterian Church. He was ordained by the Southern Presbytery of the same body at Fairview R.P. Church, Castleblayney, Co Monaghan, on the 1st March 1907. Having memorialised the General Assembly, he was received into the Presbyterian Church in Ireland as a minister without charge, on the 6th June 1908; and on 22nd July of the same year, he was installed by the Cavan Presbytery in Belturbet. He removed to Tandragee and was installed there by the Presbytery of Armagh on 5th November 1912. On 26th October 1926, he was installed in Upper and Lower Clenaneese by the Dungannon Presbytery; and finally he was installed in Fanad and Rathmullan by the Letterkenny Presbytery on 17th July 1931. He retired from active duty on 31st December 1944.
A champion marksman and a competitor in pistol shooting contests at Bisley, Mr Edgar was also a keen contender in all issues which seemed to him to concern the defence of the faith. He was a tenacious and forceful controversialist, and was the author of several polemical pamphlets; and throughout his life revealed himself as a man of deep theological convictions.
Predeceased by his wife, Mr Edgar is survived by a daughter and three sons, one of whom is Rev Kenneth Edgar, BA Formerly an RAF chaplain, and now a minister in the Presbyterian Church of South Africa.
Rev John Edgar D.D, LL.D (1798-1866)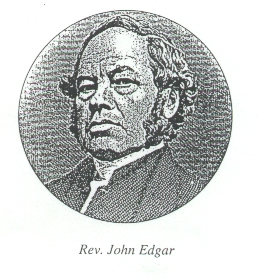 In 1842 John Edgar wrote,
My highest and holiest ambition, my fervent wish and prayer for my two sons, is that they may faithfully and successfully preach in the Irish language to the Irish people.
He was born near Ballynahinch in 1798, son of the Rev. Samuel Edgar (1766-1826) and his wife Elizabeth McKee (1771-1839). He shone as a student at the Belfast Academical Institution where he carried off four silver medals. Edgar was noted for his humanity and his high ideals and renowned as the originator of the Temperance Movement, preceding by some years the work of the Rev. Fr Mathew (1838). His letter to the Belfast News Letter on 14 August 1829 was the first appeal on behalf of Temperance Societies that appeared in Europe.
A person of strong social conscience, he was involved in the early development of several of the public institutions in Belfast. Dr Orpen of Dublin, a fluent Irish-speaker, had founded the first establishment for deaf mutes in Ireland. Dr Edgar was instrumental in getting the Deaf, Dumb and Blind Institute in Belfast started. This was only one of his many charitable ventures. He was sensitive to his cultural environment and described in detail the custom of "keening" (from the Irish caoin, to cry or moan) for the deceased. He first heard in Co Down, but felt that the Connemara keen was much superior. His well-known tract A Cry from Connaught was a best seller with 26,000 copies being printed. It first appeared in the Missionary Herald of November 1846. He commented on the failure of the potato crop and how it was spreading panic. However, there was as yet no inkling of the devastating disaster still to strike. The work of the Irish schools was progressing very well and he described the successes in much detail:
In the district I visited there were 107 Irish Schools, which furnished for examination, last inspection, 2053 pupils, but not less than 5000 are under instruction..
He criticised the attitude of the Anglican Church and in a paper read at the 6th annual confferance of the British organisation of the Evangelical Alliance in August 1852 he said:
Is it at all surprising that the Reformation made small progress in Ireland when those in authority persisted in attempting to spread it by means of a language (English) which the people did not understand.
In 1840 he was a member of the Secession Synod and Minister of Alfred Street congregation. In 1842 he was elected Moderator of the General Assembly.
John Edgar resented the allegation that he was a proselytiser and that his objective was to turn Roman Catholics into Presbyterians. He pointed out that his sole aim was to give them living, saving, faith in the Son of God. Furthermore, the Home Mission, of which John Edgar was the Honorary secretary in 1847, could not be accused of using the Famine, which broke out in that year, as a means of getting a foothold in Connaught: they were already there. He died in 1866 aged 68.

Memoir of the Rev John Edgar
BALMORAL CEMETRY BELFAST
EDGAR
[Square pillar of polished granite, with inscriptions on four sides] "The memory of the just is blessed." Here lie the remains of John Edgar D.D., LL.D., Professor of Theology for the Presbyterian Church in Ireland, the Christian Philanthropist and founder of the Temperance Reformation, who died August 26th 1866 aged 68 years.
"Thou shalt call his name Jesus for he shall save his people from their sins." Here also have been laid the remains of Susanna Edgar, wife of the Rev John Edgar D.D., who fell asleep in Jesus on the 23rd January 1871. "We which have believed do enter into rest."
Helen Ethel Sinclair, youngest daughter of the late Thos. Sinclair, Hopefield, and grand-daughter of Rev John Edgar D.D., died 23rd July 1887 aged 22 years. And John, son of the Rev John Edgar D.D., died 10th July 1927. And Mary his wife died 23rd August 1921. And his daughter, Minnie, died in London 22nd October 1930, interred at Norwood.
"They that be wise shall shine as the brightness of the firmament and they that turn many to righteousness as the stars forever and ever." John E. Edgar, only son of John Edgar, College Park, and grandson of the Rev John Edgar D.D., died 13th November 1893 aged 27 years.
[Register: Edgar, Dr John aged 69yrs, of University Square, buried 29 August 1866. Edgar, Susanna, aged 72yrs, buried 26 January 1871. Sinclair Helen, aged 22yrs, buried 26 July 1887. Edgar, John E., aged 24yrs, of Royal Hospital, buried 16 November 1893.
The will (with one codicil) of the Reverend John Edgar, late of Belfast in the county of Antrim, Doctor in Divinity, who died 26th August 1866 at Rathgar in the county of Dublin, was proved at the Principal Registry 9 October 1866 by the oaths of Thomas Sinclair of Belfast, merchant, and William F. Bigger, merchant, and Susanna Edgar, the widow, both of Londonderry, the executors. Effects under £4,000.
The will of Susanna Edgar, formerly of Londonderry and late of Belfast, county Antrim, widow, who died 23 January 1871 at Belfast aforesaid, was proved at Belfast 27 March 1871 by the oaths of William Finlay Bigger and William Tillie, both of Londonderry, the executors. Effects under £1,500.
The Rev John Edgar was born at Ballykine, near Ballynahinch, on 13th June 1798. He was the eldest son of the Rev Samuel Edgar, minister of second Ballynahinch (Secession) Presbyterian Church, who ran an Academy at his home and was Seceder's Professor of Theology at Belfast Academical Institution until his death. The Rev Samuel Edgar and his wife were buried in Killaney graveyard and he was succeeded in Ballynahinch by his younger son, David. John was educated at Glasgow University 1812-14 and Belfast Academical Institution where he obtained the General Certificate in 1819. He was Ordained Secession Minister of Alfred Place, Belfast on 14 November 1820 and the church was opened in the following year, to be replaced by a larger one in Alfred Street in 1837. When his father died in 1826 John was elected to the Chair in Theology (at B.A.I.) which he held until his death. He was made D.D. of Hamilton, USA in 1836 and LL.D of New York in 1860 and was Moderator of the General Assembly 1842-3. However he is chiefly famous as a pioneer of the temperance movement, and was involved in other good causes including help for female prostitutes and the starving in Connaught during the Great Famine. He died in Dublin where he had gone for treatment of a polyp in his throat. See his biography by W D Killen, (1867); Allen: The Presbyterian College (1954); Addison: The Matriculation Albums of the University of Glasgow (1913).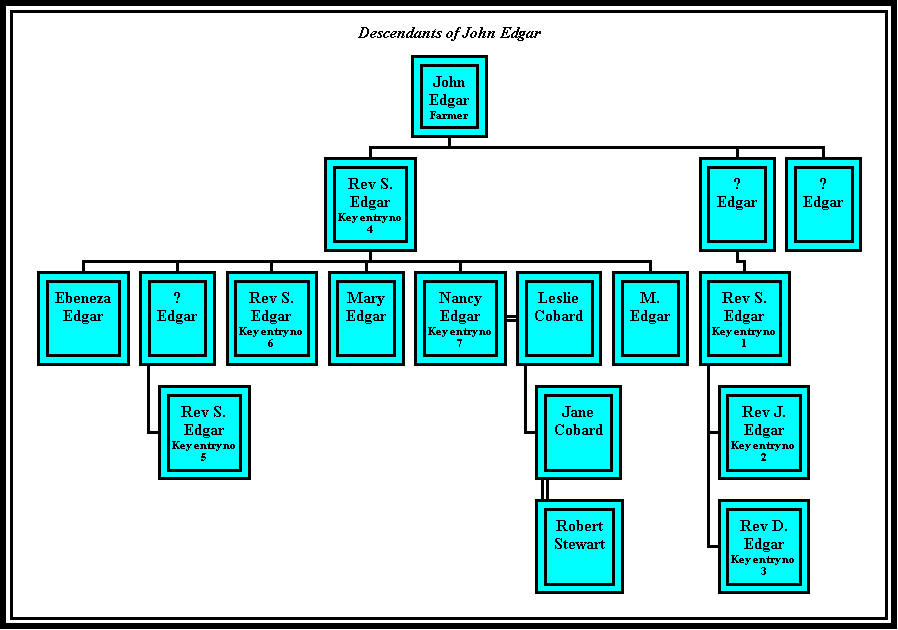 Key to the tree above
Entry no 1
Rev Samuel Edgar M.A. D.D. The Rev Dr Samuel Edgar was born in Gilford, Co Down, in 1767. His father was an elder in the Gilford congregation. For sometime as a child he lived with his Uncle the Rev Samuel Edgar of Loughageny. He married Elizabeth McKee (1771-1839) on the 15th January 1794. He was the minister of Second Ballynahinch Presbyterian Church for 33 years (1793-1826) And on his death on the 17th October 1826 aged 59, the congregation asked for his son David, who was at that time training to be a minister, to be his successor, and three years after his fathers death the Rev David Edgar became the minister of Second Ballynahinch Presbyterian Church. The Rev Samuel Edgar owned and lived on a farm in Magheraknock just outside of Ballynahinch, it was here that the famous Rev Dr John Edgar was born.
Entry no 2
Rev Dr John Edgar D.D. LL.D. The Rev Dr John Edgar was born in Ballynahinch, Co Down, on the 13th July 1798, he died 26th August 1866, aged 68. He married in 1828 to Susanna Grinshaw (25th March 1800 - 23rd January 1871)
Entry no 3
Rev David Edgar. The Rev David Edgar was born in Ballynahinch, Co Down, in 1805, he died in 1889. He was married on 22nd August 183? to Nancy Graham (? - 1st December 1836)
Entry no 4
Rev Samuel Edgar. The Rev Samuel Edgar (1747 - 9th May 1785) Wife ? she died 23rd August 1828. He was the minister of Loughageny 1771-1785.
Entry no 5
Rev Samuel Edgar. The Rev Samuel Edgar, married 1855, died 2nd March 1891.
Entry no 6
Rev Samuel Oliver Edgar. The Rev Samuel Oliver Edgar, born 1783, died 3rd June 1850, minister Armagh 1811.
Entry no 7
Nancy Edgar. Nancy Edgar married Leslie Cobard, their daughter Jane married Robert Stewart in 1833, their son was the Rev Samuel Edgar Stewart, born Carrickfergus 1841, he married Agnes Black the daughter of Rev Moses Black.
Also in this family but I am not sure where they fit in are:
Ellen Edgar, died 30th March 1883, married Rev John Brown, 17th November 1830
Ann Jane Edgar, married Rev William Wallace, 15th June 1813, he died 21st January 1859
Hugh Edgar, married 5th November 1838
Joseph Edgar, married Elenor White, 12th November 1847
John Edgar, died 31st August 1923, married Mary Hutton, on 13th January 1876
Robert Smyth Edgar, from Dromore, Co Down, died 1897, married Elyja Jane Jardine in 1877, she died in 1918.
John Hammond Edgar M.A. LL.D. Master in law, the son of Robert S Edgar, John was born in 1879, he was killed in action in France 24th February 1916.
Rev Samuel Edgar 1872-1968

The picture of the Rev Samuel Edgar above was taken from the semi centennial souvenir 1860-1918 book of the Reformed Presbyterian Church of Winchester, Jefferson County, Kansas, USA. During the period 1913-1917 the Rev Samuel Edgar was supported by the Winchester congregation as he carried out his missionary work in Syria. In 1917 he was barred from missionary work by the first world war and then went on to work for the American Red Cross in Palestine.
The Rev Samuel Edgar was born in Rathfriland, Co Down, Ireland, in 1872, his parents were Samuel Edgar, born about 1825 in Ireland, and Sarah McMullen, born 1835, Sarah died 10th September 1913 in Brookline, Massachusetts, USA.
Samuel Edgar and Sarah McMullen had eight children in all and they are:
Mary Edgar, born 10th January 1860, Rathfriland, Ireland, died 1st October 1950, Needham, Massachusetts, USA.

Jane Edgar

Liza Edgar

Margaret Edgar, born in Ireland, died before 1892 in Ireland

Sarah Edgar

William Edgar, born in Ireland, died before 1892 in Ireland

John Edgar, born about 1854 in Ireland

Rev Samuel Edgar, born 1872, died 1968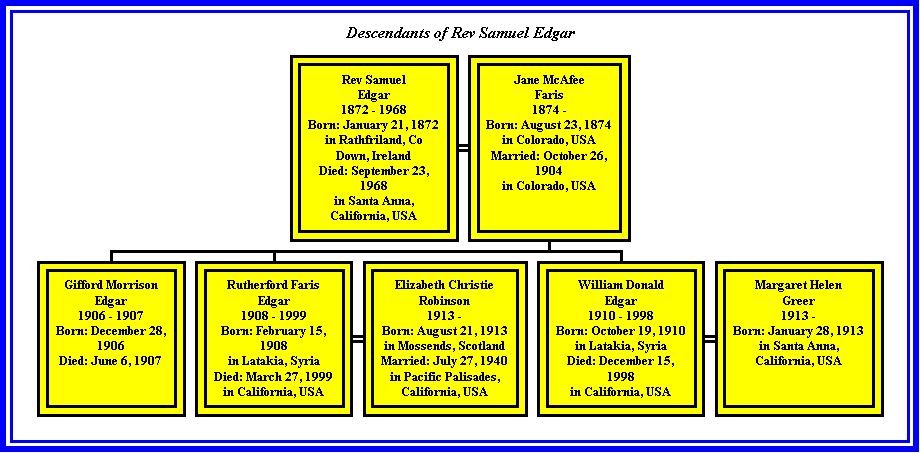 The letter below was written by Rev Samuel Edgar to his cousin Agnes in Australia
Wyman, Iowa. U.S.America
June 2.16.
Dear Cousin Agnes:-
I cannot express our joy at hearing from you all again. Our silence was not because we did not think and talk about you and Uncle John often, for we did. But I had no idea of your old home address, at least enough to try until I received it from Ireland last Winter.
When I was in Ireland a year ago we talked about you all many times as we sat around the turf fires in the Island bog and supped Oaten Porridge and buttermilk. This is one of childhoods dishes and one that I still enjoy. When I was a little boy I always liked to visit Aunt Susanna as we called her, she is your fathers only living sister now. She was always kind to us children. And I like to visit her yet. Poor old lady her eyesight has failed and she can only make out her friends by their voices. She has a wee round table that she serves tea on by the fire and a wee old black tea drawer; do you know what that is? In this she makes the tea, I was asking her if this was the same one that she had when I was there eight yrs ago. As in other places time makes changes and the young people are now almost all gone and those who are left are like me growing old.
While I was there I preached in Rathfriland several times. In Belfast and in Scotland. Made a number of addresses concerning the war and Missions. That was my first trip to Scotland. I did richly enjoy it. It is a beautiful spot. I was richly entertained.
So you are married and a new name and new babies all since I heard from you last. Since then I to have had a varied career.
Just before finishing College I was taken ill and had to make a change of climate. Went to Colorado way in the West. 2000 miles from Boston where we all have lived. While out there regained health and met Mrs. Edgar. Then when I finished the theological seminary I took a post Graduate course in Princeton Seminary, not sure that you are acquaint with this word over there, it is not used in Ireland. It is the term given here to theological schools. Then I had three calls. Two of these were very attractive, the third was from a small Mission church in Southern Colorado. Accepted it and was there ordained. Cousin Agnes that was a great day of joy in my life and soul. So you remember how the gaining of some long sought desire of your heart thrilled you? Well that was feeling that evg as the Lord granted me to have holy hands laid on me setting me apart to be a minister of the Gospel of Jesus Christ our Saviour. After six months service we were married Jennie and I. And here we served with great joy for three yrs until the Foreign Mission Board of our Covenanter Church asked us to go across to Syria. We accepted for it had been the desire of my heart to serve the Master abroad.
So we left Colorado in Augst 1907 to ready for the Turkish Empire. Our field is in Northern Syria. Right across from the Island of Cyprus. We buried our first born a little boy of seven months before we left there. Our parting was a hard one as we had became strongly attached to the people. The congregation had grown from a Mission station to a self supporting cong. Had doubled in membership and was still growing. In crossing the Atlantic we were on the Lusatania on her maiden trip.
We have two little boys both born in Syria. Rutherford Faris is a little over 8 and William Donald will soon be 6. We call them Faris and Donald. Faris could talk Arabic as easily as English when we left Syria but he has forgotten it now. Donald was just picking it up. They are strong and healthy lads and a great joy in the home.
We did enjoy our work in the Mission field. Tho Turkey is a hard place to work. You see they do no want the gospel to flourish nor converts be made from the followers of the Prophet Mohammed. And so they hinder us in every way. Yet withal it was a delight to see men and women finding Jesus as their Saviour and children who were groping in darkness coming into the light. Agnes there is no work like it this side of the Pearly gates.
Altho I have been in the States many years I never changed my citizenship. So I had a British passport and when the war began I like all Britishers was rounded up for prison or deportation. The Lord opened the door and I got out. Jennie and the boys followed three months later. So here we are waiting until the door opens that we may return. Hoping too that it shall be the British flag that shall fling its colors to the breeze yonder then. That will give the poor oppressed people a new day. Oh how we were all disappointed when we had to retreat from the Dardenelles. What great things your Australians and New Zealander did there. A great page in British history in the days to come. But the withdrawal hurts. Then the defeat at Kut hurts. Just when the Turk needed to be humbled. O how we long to see victory in that land for our forces.
I wrote your father a long letter some days ago. Hope he recvd it safely. (sent him a snap of the family). Let me hear from you soon again and tell me in detail of yourself and husband and family. Send us a photograph. All ours are in Syria with all we possess, so I cannot send you anything but this snapshot of me in the saddle taken in Syria as I was coming home from a Missionary trip.
Give our love to the rest of the cousins and their families and write us soon in detail. Will send you a Magazine in a few days and a map of our field.
Affectionately you're Cousin
Samuel Edgar
Memorial for Kermit Samuel Edgar
Taken from the minutes of the one hundred and seventieth synod of the Reformed Presbyterian Church of North America, held 14th-20th July 2001, Geneva College, Beaver Falls, Pennsylvania.
Kermit S. Edgar was born in Youngstown, Ohio, on November 13, 1909, and died in Pittsburgh at the Reformed Presbyterian Home on February 29, 2000, shortly after his 90th birthday. By the grace of Jesus Christ he lived a long and active life in the service of his Lord and of the Reformed Presbyterian Church.
He was a graduate of Geneva College in the class of 1931 and the Reformed Presbyterian Theological Seminary in 1934. During his college and seminary years he was active in the work of the Eastvale Sabbath School, and it was appropriate that on his graduation from seminary he was appointed stated supply there as a church planter. He was ordained sine titulo in 1936 and under his leadership the Eastvale congregation was organised that same year; for five years he served as a stated supply as the congregation matured. He had a unique relationship with Eastvale. After serving in other charges, he returned to it as its pastor from 1972 to 1981. In that year he retired and moved to Evanston, Illinois, where his wife served for eight years as president of the National Women's Christian Temperance Union. When she left that position in 1989, they returned to Beaver Falls, where again they were active in the life of the Eastvale congregation and Kermit was elected an elder.
From 1941 to 1945, he served as stated supply for the Minneola, Kansas, Associate Presbyterian congregation, since 1969 part of the Reformed Presbyterian Church. For the remainder of his career as pastor he served in the Pittsburgh Presbytery, at Allegheny from 1945 to 1959, at New Alexandria from 1960 to 1972, and (as noted above) at Eastvale from 1972 to 1980.
He contributed significantly to the denomination by his service on its boards. Among others, he served as trustee of Geneva College from 1953 to 1972; on the Board of Home Missions from 1950 to 1961 and from 1963 to 1976; on the Seminary Board from 1948 to 1971, often at significant times in the history of those boards. Those of you who knew his meticulous handwriting and his care for detail will know why he was so often chosen secretary of the boards on which he served. He was elected moderator of the synod of 1971.
Beyond the denomination he served on the Board of Directors of the National Reform Association for twenty-seven years from 1953 to 1980, and as President of the Executive Committee of the National Temperance and Prohibition Council from 1984 to 1987. In recognition of his many services, he was honored with the degree of Doctor of Divinity by Geneva College in 1957.
In 1937, he was married to Martha Greer, a child of the manse, the daughter of Dr and Mrs Samuel E. Greer. She was a faithful pastor's wife, active in the life of each of the congregations her husband served. She held many offices in Pittsburgh Presbytrial and as National President of the Reformed Presbyterian Synodical. For seventeen years she was a member of the Board of Directors of the Women's Association, and was president at the time of major addition to the Reformed Presbyterian Home. She was also active in Women's Christian Temperance Union at local and stated levels, and for eight years served as its National President. She died on December 4, 1999, not quite three months before her husband.
They are survived by a daughter Lois, Mrs Bruce Alexander, a son, Keith, four grandchildren and two great-grandchildren.
Kermit was a friend of mine though most of my adult life, and I am grateful for his friendship. I remember him for his hobbies, which he took seriously (a competent philatelist, a skilled photographer, a lover of model trains). He served as my pastor for eight years, and in his retirement we served together on the Eastvale session. I remember him especially for his careful preaching of God's word and for his thoughtful concern for the lives of the flock.
I am honored to present this memorial of his life and service to this synod.
Prepared by David M. Carson
The following information came from the records of Church House in Belfast
Rev John Edgar
Son of the Rev Samuel Edgar, Ballynahinch
Born 1798
Died 1866
Rev Robert McCheyne Edgar
Son of Samuel Edgar, Belfast
Born 11th August 1841
Died 22nd February 1903
Rev Samuel Edgar
Son of John E Edgar, a farmer, from Lisbane Broardmills
Born 1746
Died 9th May 1785
Rev Samuel Edgar
Born Gilford 1767
Died 1826
Rev Samuel Edgar
Son of Oliver Edgar, a farmer Loughagery
Died 2nd March 1891
Rev Samuel Oliver Edgar
Son of Samuel Edgar
Born 1783
Died 3rd June 1850
Rev Alexander Pollock Edgar
Born 1877
Died 8th November 1908
Rev David Edgar
Son of the Rev Samuel Edgar, Ballynahinch
Born 1805
Died 8th December 1889
Rev James Edgar
Born Broardmills
Died 1863
Rev James Edgar
Born 21st September 1868, Ballyduff, Carnmoney
Died 5th November 1912
Email me: edgar888@yahoo.com